May 10, 2019 7:08 pm
Leave your thoughts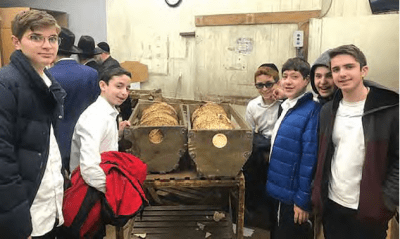 Rabbi Dov Langer's CAHAL 7th-8th grade class at Yeshiva Darchei Torah went to visit the Pupa Tzeilim Matzah Bakery in Williamsburg, NY, last week. They learned firsthand all the steps it takes to bake matzah for Pesach. Measuring and pouring water into flour, mixing and kneading the dough, dividing and rolling the dough, the dough going through the hole rollers, and, of course, baking matzah.
That was the most exciting part of the process as the boys were able to go right up to the ovens and watch how quickly the matzos baked. Once they were done, the boys watched the weighing and packaging of each box. They also watched how the mashgichim do their work so vigilantly. The students were amazed at the promptness of everyone who works in a Matzah Bakery.
They were then treated to a delicious chometz lunch at the Mozzarella pizza store in Williamsburg.
Categorised in: Local News