August 24, 2020 10:38 am
Leave your thoughts
(August 24, 2020 / JNS) Israel struck multiple Hamas targets in the Gaza Strip early on Monday in response to the ongoing launches of explosive and incendiary balloons into Israel, according to the Israel Defense Forces.
"IDF fighter jets, tanks and aircraft attacked military positions and underground infrastructure in the southern Gaza Strip belonging to the Hamas terrorist organization in the southern Gaza Strip," the IDF said in a statement.
It added that the Israeli strikes were in response to the launching of explosive and incendiary balloons into Israel on Sunday.
Terrorists in the Hamas-ruled enclave resumed the cross-border arson attacks several weeks ago following months of relative calm, starting dozens of fires in the western Negev region. Multiple rockets have also been fired into Israel from Gaza in recent weeks, including attacks on Sderot and Ashkelon. In response, Israel has repeatedly struck Hamas installations in Gaza, in addition to closing the Kerem Shalom crossing and the Gaza fishing zone in an attempt to pressure Hamas into reining in the attacks.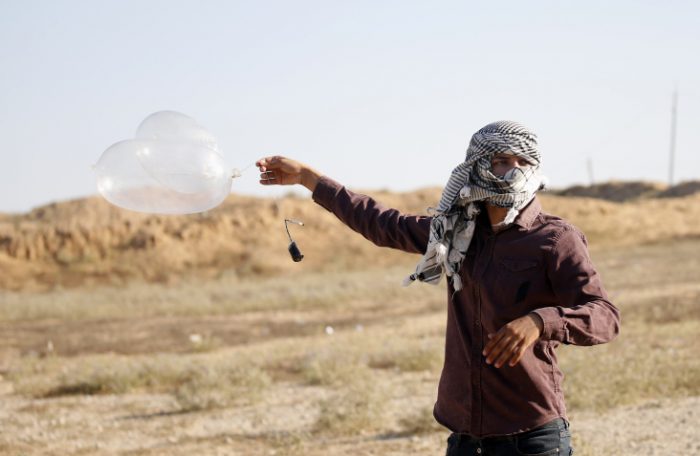 In March, Qatar announced $150 million in aid to the Gaza Strip, to be distributed in monthly payments of $25 million, to support United Nations humanitarian programs there and bolster efforts to contain the coronavirus outbreak, Reuters reported. While Israeli media reports have attributed the recent upsurge in violence from Gaza to an attempt by Hamas to pressure Qatar into continuing these payments, Hamas denies this.
Hamas spokesman Hazem Qassem told Al-Monitor that the arson attacks were not connected with the end of the Qatari payments this month, but were a popular reaction to the "ongoing siege" of Gaza, which he said had "overstrained the humanitarian situation" there.
"Israel is delaying the implementation of stage two and three of the Egypt and United Nations-sponsored truce understandings reached in late March 2019," he added, according to the report.
Arabic-language daily Asharq al-Awsat reported on Monday that the commander of the IDF's Southern Command, Maj.-Gen. Herzl Halevi, was in Qatar in an effort "to restore calm" between Hamas and Israel.
The London-based pan-Arab news outlet cited "intelligence sources in Tel Aviv" as saying that Halevi was in Doha as part of a delegation that included other IDF officers, as well as representatives from the Shin Bet, the Mossad and Israel's National Security Council.
Halevi was reportedly in Qatar earlier in 2020, along with Mossad chief Yossi Cohen.
"The [Israeli] delegation worked on negotiating an agreement [on] a ceasefire [that could be] accepted by Hamas leaders residing in the Qatari capital, mainly Ismail Haniyeh and Saleh al-Arouri," the sources said, according to Asharq al-Awsat.
Hamas was also waiting to hear from an Egyptian security delegation, which has been engaged in mediation, for a response to its demand that Israel ease restrictions on Gaza, said the report.
The IDF did not immediately respond to the reports.
Categorised in: Israel News, Uncategorized